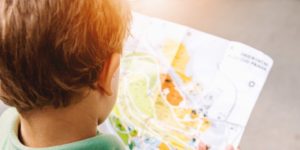 School's out! But that doesn't mean that the learning needs to be put on hold. This collection is filled with fun ways that you can keep your children learning and exploring throughout the summer months!
MY FABULOUS STORYTELLER
My Fabulous Storyteller from Lunii is a screen-free, yet interactive options for kids! Children get to create their own adventure by choosing the hero, the world, the companion, and an object. Then My Fabulous Storyteller takes those options and creates a unique story for the child to listen to. It comes pre-loaded with 48 stories with the option to add more through the Luniistore.
Another great feature is that this device does not require WiFi and does not demand your child's full attention. They can create and listen to fun stories while looking out the window on a road trip, or they can drift off to sleep listening to the imaginative story of the night!
Free Printables
Check out over 60 useful printables available for you to save and use at your convenience!
Karissa Tunis
KARISSA TUNIS is the co-owner of both the parenting website Adore Them and the family event company Milestone Family Expos. Through these ventures she is able to share inspiring, heartfelt insight with large audiences within local communities and across the country! Her knack for all-things-organization allows her to balance content creation, brand partnerships, and event planning without losing sight of what she wants for her own family. Despite her busy schedule, Karissa also makes it a priority to spend quality time with her husband and three children. You will often find her volunteering at her children's schools, cheering them on from the soccer sidelines, or enjoying the great sites of Charleston, SC with her family.
Contact: Karissa@AdoreThem.com
Shari Medini
SHARI MEDINI is the co-owner of both the parenting website Adore Them. She quit her job to stay home with her first son back in 2010 and was able to successfully navigate the freelance world while building skills and establishing connections. Her experience includes working as a marketing strategist and writer on multi-million dollar capital campaigns, website redesigns, advertising campaigns, and book launches. Shari's parenting articles have been published in dozens of publications; and she enjoys doing speaking engagements at various local, regional, and national conferences. When she's not on her laptop, Shari can be found spending quality time with her husband and two sons exploring their hometown of Lancaster County, PA
Contact: Shari@AdoreThem.com
Featured Contributor: Lindsey Cover
Lindsey Cover is a work-at-home wife and mom of two young boys, Jadon and Owen. She blogs about affordable healthy living, money-saving methods, simple recipes, and more at
SimpleSaverWife.com
Featured Contributor: Catherine Arent
Catherine lives in Wilmington, DE with her husband, John, and 18 month old son, LJ. She is an Independent Consultant for Usborne Books & More. She is passionate about getting children engaged in purposeful reading and positively impacting children's literacy. You can reach out to Catherine via:
Featured Contributor: Rachel Stewart Johnson, Ph.D.
Rachel Stewart Johnson is a former lecturer in human development and a mother of three. Her writing has also appeared recently in Thrive Global and Elephant Journal, among others. Rachel received a Ph.D. in psychology, with a developmental psychology focus from Stanford University in 2000. You can reach Rachel via: