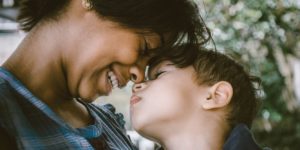 When our children are struggling or displaying puzzling behavior, it is tempting to simply brush it off as a phase that they'll grow out of. And while this may be true in some cases, addressing these concerns head-on can be a much more effective route to take! This collection offers insight into a variety of concerns and solutions from parents who have been there.
LUXURY WEIGHTED BLANKET
Rachael of Komfy Couture is a friend of Adore Them, a guest contributor for the site, & an incredible mother to a child with Sensory Processing Disorder.
Her weighted blankets are beautiful & incredibly cozy! They are filled with glass beads & customizable to your style & preferences.
Click the button below for more info & to purchase from Etsy affiliate…
Free Printables
Check out over 60 useful printables available for you to save and use at your convenience!
Karissa Tunis
KARISSA TUNIS is the co-owner of both the parenting website Adore Them and the family event company Milestone Family Expos. Through these ventures she is able to share inspiring, heartfelt insight with large audiences within local communities and across the country! Her knack for all-things-organization allows her to balance content creation, brand partnerships, and event planning without losing sight of what she wants for her own family. Despite her busy schedule, Karissa also makes it a priority to spend quality time with her husband and three children. You will often find her volunteering at her children's schools, cheering them on from the soccer sidelines, or enjoying the great sites of Charleston, SC with her family.
Contact: Karissa@AdoreThem.com
Shari Medini
SHARI MEDINI is the co-owner of both the parenting website Adore Them. She quit her job to stay home with her first son back in 2010 and was able to successfully navigate the freelance world while building skills and establishing connections. Her experience includes working as a marketing strategist and writer on multi-million dollar capital campaigns, website redesigns, advertising campaigns, and book launches. Shari's parenting articles have been published in dozens of publications; and she enjoys doing speaking engagements at various local, regional, and national conferences. When she's not on her laptop, Shari can be found spending quality time with her husband and two sons exploring their hometown of Lancaster County, PA
Contact: Shari@AdoreThem.com
Sarah Lyons
Sarah Lyons is a mom of six kids, including three-year-old triplets. She loves cooking, being outdoors, and reading mysteries. She lives in the Kansas City area with her family.
Genevieve Johnson
Genevieve is a play therapist in Longmont, CO. She specializes in enhancing the parent-child connection, breaking through frustrating behaviors and optimizing your child's ability to learn and socialize.
Lindsey Cover
Lindsey Cover is a work-at-home wife and mom of two young boys, Jadon and Owen. She blogs about affordable healthy living, money-saving methods, simple recipes, and more at
SimpleSaverWife.com
Laura Hurd
A simple Tennesseee special needs mama hoping to encourage moms around the world. Learning to love life and rejoicing that the little things are the big things.
Calleen Petersen
Just an ordinary Mom who has special needs children and a husband in Law Enforcement and the Military. I write about our life and my thoughts while residing in Washington State.
Liz Disterhoft
Liz attended Bard College in New York & received her Masters in Social Work at Simmons College. She has worked in community health centers in Boston for the last eight years doing therapy with children, family, & adults. Liz uses a heartfelt & creative approach in her work, combining mindfulness techniques, trauma informed methods, & art. She is also a mom to two young children & enjoys painting, organic gardening, & hiking.
Dana Baker
Dana Baker is a writer, editor, not-so-perfect mom of two, and a Parent and Teen Coach. She help families reconnect and find a way around the walls that cause such isolation and dysfunction in these years. Dana offers advice from the trenches, a non-judgmental ear and tips/feedback based on the science of psychology and the reality of parenting. Read her blog and follow her on social media.
Rachael Wood
Rachael is the mother of three incredible girls and the owner of Komfy Couture. She is passionate about designing comfortable and fashionable clothing for children and making custom weighted blankets. She lives in Lititz, PA with her fiancé, Brian, and her daughters, Alison and Angie.
Kathryn Hively
Though a Southerner at heart, Kathryn Hively lives with her husband and two young daughters in New Jersey. Her blog
Just BE Parenting
promotes non-judgmental parenting and celebrates families in all forms. Her work has also appeared in Scary Mommy, mom.me, Ravishly, and the Mighty, among others.
Autism Sparkles
I am a mom, special needs advocate, and public school teacher who believes a child's value is so much greater than grades or numbers on a score card. In these last seventeen years navigating this autism journey with my son, I have learned that who my boy is… is exactly who he is meant to be. The reason I love, rather than fear, autism, is I see the bigger picture and how it has blessed us with a bigger view of life and a deeper appreciation and affection for different.