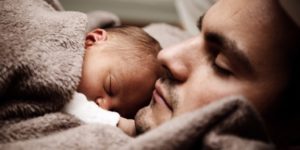 Whether it is the newborn, the toddler, the teenager, or even the parents themselves… most families have their fair share of sleep struggles! This collection is filled with great advice & ideas to help your whole family get some more Zzz's. We share advice for how to get baby to sleep, toddler sleep problems, and more!
BEDTIME BOOK
I purchased the audiobook version of this book for my kids, and it worked like a charm! I would play it for them from my phone while they drifted off to sleep. It is such a great, simple concept; and I hope it works as well for you as it did for me!
Click the button below for more info & to purchase from Amazon affiliate…
HAND-CRAFTED BEDS FOR KIDS
Tradecraft Specialties makes super fun products for kids! Who wouldn't want to sleep in their own personal princess carriage or pirate ship? 🙂 Choose from a large number of high quality beds or reach out with your own customization ideas.
Click the button below for more info & to purchase from Etsy affiliate…
Free Printables
Check out over 60 useful printables available for you to save and use at your convenience!
Karissa Tunis
KARISSA TUNIS is the co-owner of both the parenting website Adore Them and the family event company Milestone Family Expos. Through these ventures she is able to share inspiring, heartfelt insight with large audiences within local communities and across the country! Her knack for all-things-organization allows her to balance content creation, brand partnerships, and event planning without losing sight of what she wants for her own family. Despite her busy schedule, Karissa also makes it a priority to spend quality time with her husband and three children. You will often find her volunteering at her children's schools, cheering them on from the soccer sidelines, or enjoying the great sites of Charleston, SC with her family.
Contact: Karissa@AdoreThem.com
Shari Medini
SHARI MEDINI is the co-owner of both the parenting website Adore Them. She quit her job to stay home with her first son back in 2010 and was able to successfully navigate the freelance world while building skills and establishing connections. Her experience includes working as a marketing strategist and writer on multi-million dollar capital campaigns, website redesigns, advertising campaigns, and book launches. Shari's parenting articles have been published in dozens of publications; and she enjoys doing speaking engagements at various local, regional, and national conferences. When she's not on her laptop, Shari can be found spending quality time with her husband and two sons exploring their hometown of Lancaster County, PA
Contact: Shari@AdoreThem.com
Featured Contributor: Kim West, LCSW-C The Sleep Lady
Kim is a Licensed Clinical Social Worker who has been a practicing child and family therapist for more than 24 years. She is now the world's foremost expert on child behavioral sleep and on a mission to help 1,000,000 families find sleep by 2020. With trained Gentle Sleep Coaches® (19 countries worldwide), free articles and guides, e-courses, and the bestselling book Good Night, Sleep Tight — tens of thousands of families from all over the world have found sleep again with The Sleep Lady's gentle, proven sleep methods.
Featured Contributor: Katie Strohecker
Katie Strohecker lives in Lancaster, PA with her husband and two children. She is a former teacher, turned work-from-home mom with a background in event planning. She is also the co-owner of Milestone Family Expos, which strives to showcase the newest and best parenting, baby, and child-related products/services through two of the largest annual expo shows in the Central PA area.
Featured Contributor: Nicole Kilgore
Nicole is a dental hygienist with over 17 years in the field. She is passionate about children's dental health, and educating the public as to how it is linked to overall health. And it just so happens that her husband, Ken Kilgore, also shares an interest on keeping kids healthy and safe -- he makes customized children's beds to help a child transition from crib to big kids bed in a fun way.
Featured Contributor: Katerina Zeppos
Katerina is a wife, mom of two young children, and founder of Katerina's Finest which imports only the finest quality olives and olive oil from a small collective in southern Greece. They believe that this region grows the finest and most flavorful olives anywhere in the world! To finish out their line of products, they also produce their own Dressings & Vinaigrettes with a special Greek blend.
Featured Contributor: Pamela Rineer
Pamela Rineer lives in Lititz, PA with her husband, two boys, and very large goldendoodle. With a love of real estate, design, and money management she began rennovating their homes on a budget. Now, settling into their fifth house, she shares simple DIY's for all things home.
Featured Contributor: Ashley Graham
Ashley Graham is a content curator from New York. She is enthusiastic about healthy living and design. She enjoys exploring new ways to optimize the comfort of her home for her family. Ashley also enjoys an active lifestyle as much as she loves long evenings recuperating on her Casper mattress.
Featured Contributor: Sandra Noojin
Sandra Noojin is an educator, blogger, researcher, wife and mother. Read more of her work at
sandrabasile.com