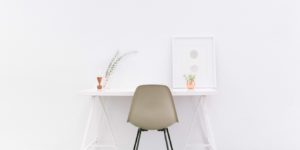 Sometimes we choose, or life forces us, to dial things back – but it's not a bad thing! Finding simplicity can be beautiful, and basics are much easier. This collection is filled with advice and suggestions for simplifying your life and accepting that oftentimes less really is more!
"SIMPLIFY" METAL WALL ART
You can hang this wall art in your home for a great reminder to simplify your life and focus on what matters most. This would look beautiful in a gallery style wall or just by itself! Available in a metal finish, or you can also choose from a wide variety of vibrant colors.
Click the button below for more info & to purchase from Etsy affiliate…
Free Printables
Check out over 60 useful printables available for you to save and use at your convenience!
Karissa Tunis
KARISSA TUNIS is the co-owner of both the parenting website Adore Them and the family event company Milestone Family Expos. Through these ventures she is able to share inspiring, heartfelt insight with large audiences within local communities and across the country! Her knack for all-things-organization allows her to balance content creation, brand partnerships, and event planning without losing sight of what she wants for her own family. Despite her busy schedule, Karissa also makes it a priority to spend quality time with her husband and three children. You will often find her volunteering at her children's schools, cheering them on from the soccer sidelines, or enjoying the great sites of Charleston, SC with her family.
Contact: Karissa@AdoreThem.com
Shari Medini
SHARI MEDINI is the co-owner of both the parenting website Adore Them. She quit her job to stay home with her first son back in 2010 and was able to successfully navigate the freelance world while building skills and establishing connections. Her experience includes working as a marketing strategist and writer on multi-million dollar capital campaigns, website redesigns, advertising campaigns, and book launches. Shari's parenting articles have been published in dozens of publications; and she enjoys doing speaking engagements at various local, regional, and national conferences. When she's not on her laptop, Shari can be found spending quality time with her husband and two sons exploring their hometown of Lancaster County, PA
Contact: Shari@AdoreThem.com
Featured Contributor: Fern Weis
Fern Weis is a Parent Coach and Family Recovery Coach. She helps parents of tweens, teens, and young adults who are going through difficult situations - from homework battles to addiction recovery - and all points in between. Fern works with parents to nurture the parent-child relationship, improve communication, and set firm and loving boundaries. Parents learn to confidently prepare their children to reach their potential and be successful through life's challenges. Fern is regularly interviewed on Change Your Attitude...Change Your Life (WOR710 NYC), and is a contributor to Huffington Post and Ridgewood Moms.
Featured Contributor: Katerina Zeppos
Katerina is a wife, mom of two young children, and founder of Katerina's Finest which imports only the finest quality olives and olive oil from a small collective in southern Greece. They believe that this region grows the finest and most flavorful olives anywhere in the world! To finish out their line of products, they also produce their own Dressings & Vinaigrettes with a special Greek blend.
Featured Contributor: Pamela Rineer
Pamela Rineer lives in Lititz, PA with her husband, two boys, and very large goldendoodle. With a love of real estate, design, and money management she began rennovating their homes on a budget. Now, settling into their fifth house, she shares simple DIY's for all things home.