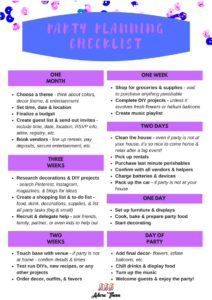 This article is written by Karissa Tunis
For more on this topic, check out the full Party Planning collection
If you are like me – then you LOVE a good party! Whether it is for a birthday, to celebrate an anniversary, around the holidays, ringing in the New Year, on the 4th of July, at the pool, or just hanging out with friends in your backyard – no matter the occasion (or how fancy), everyone loves a fun event!
And the great news is that you do not need to be an expert party planner, or a professional event coordinator, to host a successful bash. With these free resources from Adore Them, you too will be able to plan your next festivity like a pro!
Below is a party planning printable to help you stay organized. Print it out and hang it on the fridge. Or keep it in the front of a folder or binder, and file behind it everything that you need to keep track of in order to plan your next extravaganza!
Enjoy these additional Free Party Planning resources from Adore Them:
---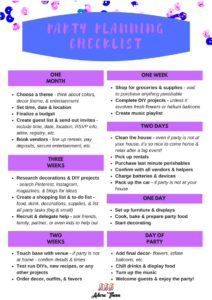 Submit your email to receive instant access to this FREE printable!
---
And for more on this topic, check out the full Party Planning collection
Expert parenting advice & resources from Adore Them