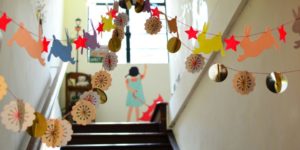 This collection has been created to shed light and answer questions surrounding different types of schooling and child education. We are not trying to compare, but rather give you insight into the differences. Each family will need to make their own decision regarding education options for their child and family. There are no "right" answers. It is an individual decision that needs to be made based on your student's individual needs, learning style, abilities, and resources.
Our goal of this Education Options collection is to allow you to dive a little deeper into the possibilities and opportunities around you!
Public | Private | Homeschool/Cyber | Montessori | Waldorf | Classical | Unschooling
HOME ORGANIZER FOR SCHOOL SUPPLIES
Regardless of which school option you choose for your child, folders, papers, & other school supplies are bound to find their way to your house. They tend to clutter up the kitchen table, the counters, backpacks, or desks, which is why this simple over the door organizer is a great solution!
Click the button below for more info & to purchase from Amazon affiliate…
Free Printables
Check out over 60 useful printables available for you to save and use at your convenience!
Karissa Tunis
KARISSA TUNIS is the co-owner of both the parenting website Adore Them and the family event company Milestone Family Expos. Through these ventures she is able to share inspiring, heartfelt insight with large audiences within local communities and across the country! Her knack for all-things-organization allows her to balance content creation, brand partnerships, and event planning without losing sight of what she wants for her own family. Despite her busy schedule, Karissa also makes it a priority to spend quality time with her husband and three children. You will often find her volunteering at her children's schools, cheering them on from the soccer sidelines, or enjoying the great sites of Charleston, SC with her family.
Contact: Karissa@AdoreThem.com
Shari Medini
SHARI MEDINI is the co-owner of both the parenting website Adore Them. She quit her job to stay home with her first son back in 2010 and was able to successfully navigate the freelance world while building skills and establishing connections. Her experience includes working as a marketing strategist and writer on multi-million dollar capital campaigns, website redesigns, advertising campaigns, and book launches. Shari's parenting articles have been published in dozens of publications; and she enjoys doing speaking engagements at various local, regional, and national conferences. When she's not on her laptop, Shari can be found spending quality time with her husband and two sons exploring their hometown of Lancaster County, PA
Contact: Shari@AdoreThem.com
Featured Contributor: Andi Lambert
I'm a mom of two boys (one with special needs), I homeschool, my husband and I are currently remodeling our entire home by ourselves, I work as an interior designer, I film and produce a youtube channel, and I write.......so I'm pretty busy!  But busy does not have to feel hectic and stressed.  I'm always looking for ways to make my day flow better, to slow down, to take time for myself, to fully immerse myself in life without feeling overwhelmed.  I started small and found that even little things contributed to my overall sense of peace.
Featured Contributor: Katerina Zeppos
Katerina is a wife, mom of two young children, and founder of Katerina's Finest which imports only the finest quality olives and olive oil from a small collective in southern Greece. They believe that this region grows the finest and most flavorful olives anywhere in the world! To finish out their line of products, they also produce their own Dressings & Vinaigrettes with a special Greek blend.