This article is written by Rachael Wood
For more on this topic, check out the full Special Needs collection
Rachael shared with us her personal and emotional story about her two daughters that have SPD (sensory processing disorder) and anxiety. Click here to read her full story about their family living with SPD.
Below is a list of some things that have helped Rachael and her daughters cope with SPD and anxiety. 
---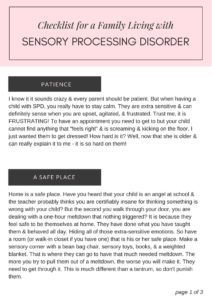 Submit your email to receive instant access to this FREE printable!
---

Featured Contributor: Rachael Wood
Rachael is the mother of three incredible girls and the owner of Komfy Couture. She is passionate about designing comfortable and fashionable clothing for children and making custom weighted blankets. She lives in Lititz, PA with her fiancé, Brian, and her daughters, Alison and Angie.
Website: www.KomfyCouture.com
Email: Rachael@komfycouture.com
Facebook: www.facebook.com/KomfyCouture
Expert parenting advice & resources from Adore Them