Created by Karissa Tunis
For more on this topic, check out the full Travel Tips collection
Having 3 small children of my own, I have had plenty of experiences with mishaps while out and about. So, I created my own car travel bag that I always keep in the trunk. A lot of these items also doubled in my diaper bag, but there is nothing worse than reaching for something and realizing that you are out. By keeping these backups in my car, I knew we were always covered!
I recommend printing out the free printable below and keeping the list in your car bag. When something needs replaced, carry the list inside as a reminder.
I always love having wipes on hand – baby wipes for cleaning the kids AND cleaning wipes for cleaning the car, stroller, etc.
Paper towels for any big spills.
Tissues, because can you ever really have enough on hand?
Ziplock bags for those dirty poopy diapers, messy clothes, or because my daughter loves to collect rocks everywhere we go.
A large trash bag for those times something gets REALLY dirty.
Hand sanitizer because I go through the stash in my purse quickly.
Diapers if applicable. I can't tell you how many times we would be out, plans changed, and suddenly we are away from the house much longer than expected. It was always so nice to have extra diapers on hand!
A flashlight may already be in your car, but if not throw one in there.
Lastly a blanket. I actually like to travel with 1 extra per kid.
---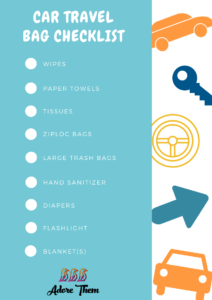 Submit your email to receive instant access to this FREE printable!
---
And for more on this topic, check out the full Travel Tips collection
Expert parenting advice & resources from Adore Them