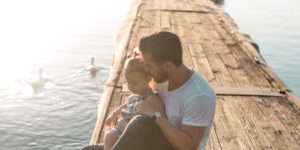 Whether it's Father's Day or any other day throughout the year, Dads deserve credit & recognition for all that they do! Dads always have a unique place in their kids' hearts, & it is beautiful to see. Thank you to all of the incredible dads out there for making a positive impact on your children's lives day after day!
Free Printables
Check out over 60 useful printables available for you to save and use at your convenience!
Karissa Tunis
KARISSA TUNIS is the co-owner of both the parenting website Adore Them and the family event company Milestone Family Expos. Through these ventures she is able to share inspiring, heartfelt insight with large audiences within local communities and across the country! Her knack for all-things-organization allows her to balance content creation, brand partnerships, and event planning without losing sight of what she wants for her own family. Despite her busy schedule, Karissa also makes it a priority to spend quality time with her husband and three children. You will often find her volunteering at her children's schools, cheering them on from the soccer sidelines, or enjoying the great sites of Charleston, SC with her family.
Contact: Karissa@AdoreThem.com
Shari Medini
SHARI MEDINI is the co-owner of both the parenting website Adore Them. She quit her job to stay home with her first son back in 2010 and was able to successfully navigate the freelance world while building skills and establishing connections. Her experience includes working as a marketing strategist and writer on multi-million dollar capital campaigns, website redesigns, advertising campaigns, and book launches. Shari's parenting articles have been published in dozens of publications; and she enjoys doing speaking engagements at various local, regional, and national conferences. When she's not on her laptop, Shari can be found spending quality time with her husband and two sons exploring their hometown of Lancaster County, PA
Contact: Shari@AdoreThem.com
Featured Contributor: Lindsey Cover
Lindsey Cover is a work-at-home wife and mom of two young boys, Jadon and Owen. She blogs about affordable healthy living, money-saving methods, simple recipes, and more at
SimpleSaverWife.com
Featured Contributor: Alison Pidgeon, MA, LPC
Alison is a licensed professional counselor and the owner of Move Forward Counseling, a boutique private practice in Salunga, PA. Her group practice specializes in women's issues and offers mental health counseling for children, teens and adults. In her free time Alison can be seen running after her two small children and cooking is her therapy.
Featured Contributor: Nicole Kilgore
Nicole is a dental hygienist with over 17 years in the field. She is passionate about children's dental health, and educating the public as to how it is linked to overall health. And it just so happens that her husband, Ken Kilgore, also shares an interest on keeping kids healthy and safe -- he makes customized children's beds to help a child transition from crib to big kids bed in a fun way.
Featured Contributor: Angie Englerth
I am Angie, a wife and mama to two sweet little boys! I'm a portrait photographer in Lancaster county capturing the journey to and through motherhood. I believe that women look the most gorgeous when pregnant and I want them to feel the same way about themselves. I also enjoy capturing little ones while they are still little.