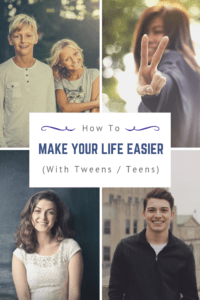 If you aren't having your tweens and teens cook dinner for the family regularly, you are doing them and yourselves a disservice. It really does make life easier.
In our house, this started out of desperation. I was in the car from school pickup through dinner time every day of the week with one girl or the other. And if I had to hear one more complaint about the lack of home cooked meals, I was going to lose my last marble.
Of course you want a from-scratch, hot meal on the table every night over which to leisurely dine and bond as a family. But you also have busy kids who can't drive and need to go to voice lessons, swim practice, and so-and-so's house to work on this week's group project (oh, don't EVEN get me started on group projects). How are you supposed to pull all of this off?
I'll tell you how.
Each of your kids has at least one activity free evening home, right? And they are now old enough to stay home alone while you haul around their sibling(s), yes? (We started the stay-home-alone thing at age 12, but every house is different). Ok. Read below to learn my secret to making life easier….