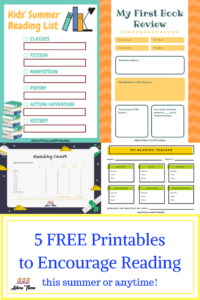 These printables are created by Karissa Tunis
For more on this topic, check out the full Summer Learning collection
I know that reading is So Important for kids! However, I hate to admit it… but sometimes it can be hard to get my kids to read – especially over the summer.
Honestly, they prefer to write. They are not the strongest of readers, so I really work hard to find books on specific topics that my children are interested in. I look for colorful covers, fun pictures, and try everything I can to make reading as fun as possible AND as consistent as possible.
Over the summer our schedule varies from week to week (sometimes even day to day). So routine can get lost. Below are 5 free printables that I created in order to stay more consistent, keep tabs on what they are reading, and give them a fun way to write and get more involved.
And if your kids are like mine, then they will enjoy creating their own book review – sharing their opinion, and giving each new book their own personal rating! Enjoy 🙂
---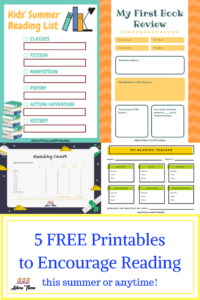 Submit your email to receive instant access to this FREE printable!
---
And for more on this topic, check out the full Summer Learning collection
Expert parenting advice & resources from Adore Them